Cast: Taapsee Pannu, Pavail Gulati, Dia Mirza
Director: Anubhav Sinha
Rating: ***1/2

As a trained classical dancer Amrita could have gone a long way had she chosen to follow her passion professionally but instead, she dreamt of becoming a great housewife. She got married to Vikram who is focused on his goals and has his mindset to achieve them at any cost.

His motivation turns into frustration and desperation when his dreams seem far away from possible because of office politics and this is when Vikram angrily slaps Amrita in front of a lot of people.
This makes Amrita rethink her life choices and regret many of her decisions whereas for Vikram it is just one little slap. What follows paves way for a dramatic, emotional and empowering journey called Thappad.

Thappad is a critical yet engaging film that is going to make the audiences talk about domestic violence and the psychological effects it leaves on the victim.

The screenplay of the film is intensely gripping that showcases the reality of arranged marriages in India.
Amrita as a devoted wife supports Vikram no matter what and has big plans for their future together until he slaps her.

'Thappad' doesn't just talk about domestic violence but it also highlights the different mindset of the women coming from different strata of life and their stories in touching way leaving a lasting impression on the viewer.

Taapsee Pannu scores full points as a devoted Indian wife, who goes through an emotional tsunami when her husband slaps her in front of everyone. Her performance is superb and her portrayal of different emotions whether it is regret or rage is mindblowing as more than her words her eyes and facial expressions speak. 

Pavail Gulati as a guy whose life revolves around his job and promotion is splendid. Kumud Mishra as Amrita's supportive father is delightful and the father-daughter chemistry is heart touching.
Ratna Pathak Shah and Tanvi Azmi as Amrita's mother & mother-in-law are great in their respective roles too and all the other actors deliver a fine performance too. The music of Thappad compliments the screenplay.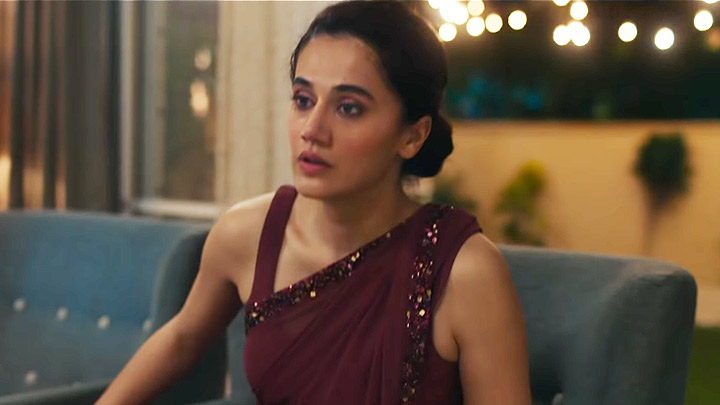 Overall, Thappad is one of the best works of Anubhav Sinha that presents all its characters with all their flaws.
It is a film that presents the patriarchal and matriarchal mentality that most of us are familiar with and have been brought up with and it is a 'Thappad' on that. The film delivers an intense message that's going to make people talk and that makes this one, a winner.