Retail inflation jumped to over five-and-a-half-year high of 7.59 per cent in January on persistently high prices of vegetables, pulses and protein-rich meat and fish, government data showed on Wednesday.
The Consumer Price Index (CPI)-based inflation was 7.35 per cent in December 2019. It had stood at 1.97 per cent in January 2019.
The earlier high was in May 2014 when the CPI-based inflation was 8.33 per cent.
The overall food inflation during January this year stood at 13.63 per cent, slightly lower than 14.19 per cent in the previous month, showed the data released by the National Statistical Office under the Ministry of Statistics and Programme Implementation.
Food inflation, however, had contracted in January 2019 with a print of (-)2.24 per cent.
Inflation in vegetables spurt to 50.19 per cent in January this year, while that for pulses and products, it rose to 16.71 per cent.
Among protein-rich items, prices of meat and fish went up by 10.50 per cent during the month, while egg prices were higher by 10.41 per cent against the year-ago period.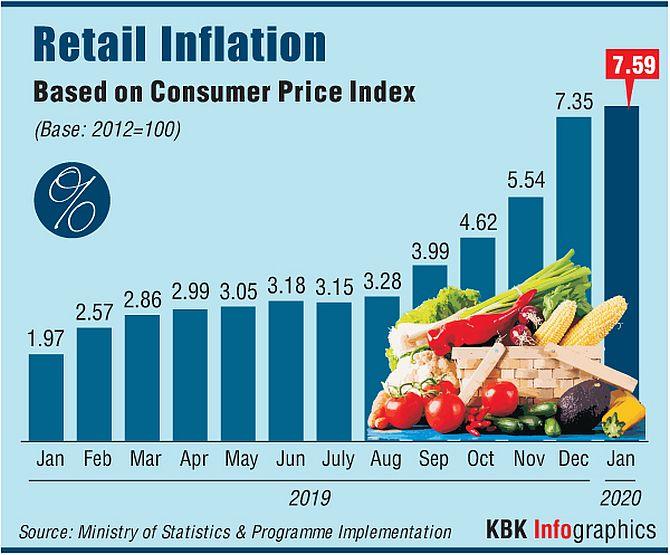 The food and beverages category showed an inflation print of 11.79 per cent, according to the data.
Housing turned costlier by 4.20 per cent in January 2020, while for fuel and light, the inflation print was 3.66 per cent.