Ahmedabad: Narendra Modi and Donald Trump arrived at the Sabarmati Ashram. The US President is scheduled to spend 15 minutes at the ashram and will see the room where Mahatma Gandhi lived for 12 years.
Trump and Modi put a garland of yarn on Bapu's picture. President and wife Melania spun the spinning wheel and understood Gandhi's three-monkey theory. Trump then wrote in the visitor's book – "My Great Friend Modi, Thank You". This is Trump's first visit to India as President.
Sabarmati Ashram was not a part of the Trump's itinerary but was added at the last moment.
US President Donald Trump earlier left the Ahmedabad airport for the iconic Sabarmati Ashram. Three chairs have been set up under a tree on the Sabarmati riverside for Trump, the first lady and Modi.
Trump is expected to spend about 15 minutes at the ashram, going round the complex and visiting the humble home in which Mahatma Gandhi lived.
Earlier, Trump and PM Narendra Modi embarked on a 22-km- long roadshow from the Ahmedabad International Airport.
The US president and Modi participated in a roadshow from the airport to Sabarmati Ashram and from there to the newly-built Motera cricket stadium, where over a lakh people are expected to be present for the 'Namaste Trump' event.
Dance groups and singers from different parts of the country are performing on stages that are dotting the 22-km route of the 'India roadshow' in the city.
Huge billboards of the two leaders and replicas of historic places in Gujarat have also been placed along the roads where people will greet the two leaders.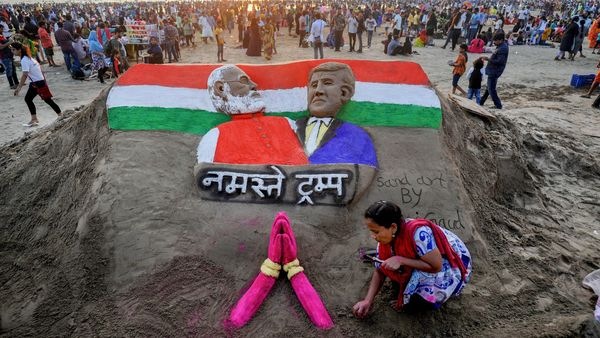 Over 10,000 police personnel, besides officials of the United States Secret Service, and personnel of the National Security Guards and the Special Protection Group have been deployed for the high profile visit.