C.M. Kamal Nath Chairs Round Table Conference with Textile, Apparel Industry
Policy for Composite and Integrated Textile Units soon
Industries giving jobs to 500 persons to be counted as Mega Industry
Madhya Pradesh has an enabling atmosphere for industrial growth, says the CM
Bhopal/ New Delhi: Industries with an investment of less than Rs. 100 crore but employing more than 500 people will have a status mega-industry and will be eligible for the customized packages in Madhya Pradesh.
Immediate licenses: In order to boost investments, immediate clearances and licenses will be provided for at least 40 services within 7 working days. Deemed Approval provided by Invest Portal will be considered at par with actual approval/ clearances being provided in the current scenario and will have legal sanctity.
Incentives for garment units: The garment units outside the industrial parks will be eligible for incentives offered under the garment sector package.
The Chief Minister Shri Kamal Nath informed about major policy initiatives to the major players of textile and apparel sectors at the round table conference at New Delhi on Friday.
Boost to expansion plans: The Chief Minister informed that expansion of investment to the tune of more than Rs. 5 crore will be eligible for incentives now. So far, the provision was that only 30% of original investment, which has to be not less than Rs. 10 crore, was eligible for incentives. This will encourage expansion plans.
Plug And Play Industrial Park at Badiya Khedi: Nath said that Plug and Play Industrial Park will be developed in Badiya Khedi (Sehore) in an area admeasuring 60 acres which is only 28 kms from Bhopal airport and close to Bhopal-Indore Highway.
The CM urged the private developers to come forward for the development of Garment Park on PPP Model at Barlai, 20 km. from Indore on way to Dewas.
The State Government is committed to providing more incentives for the manufacturing of textiles and apparel from organic cotton, he added.
A committee headed by Chief Secretary involving stakeholders from cotton farmers and manufacturers has been set up to promote use of cotton for garments/apparel.
The Chief Minister said that the State Government will design a policy for incentivizing composite and integrated units in textile sector.
The Chief Minister said that Madhya Pradesh is the most favourable state for industries. He said that the global economy is facing many challenges and the industry sector has to adopt and adapt to the changes taking place at global and local levels.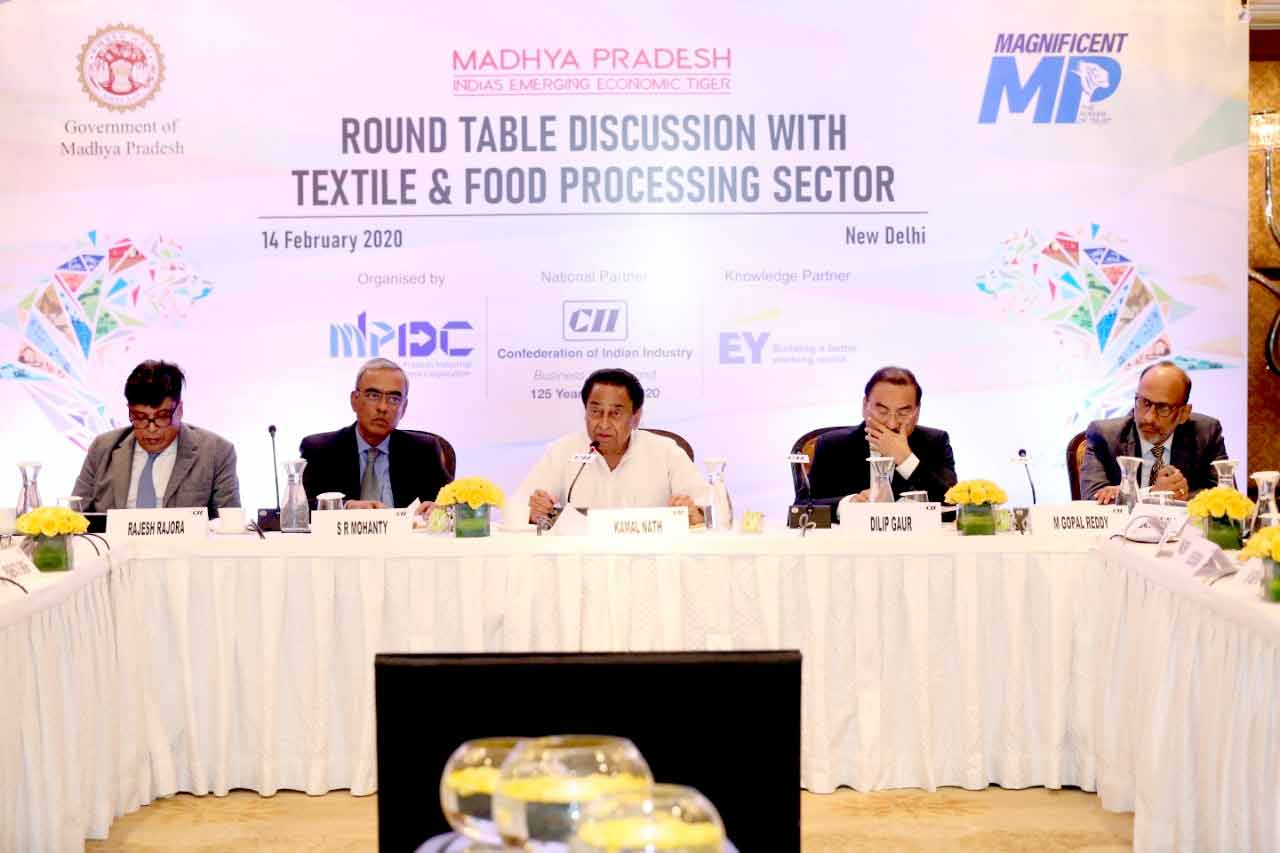 India's 60% market in MP: He said that India's 60 percent market is in Madhya Pradesh. He said that the state government is striving to make Madhya Pradesh a hub of food processing and horticulture, which will boost its economy.
14 thousand jobs: Encouraged by the industry-friendly approach of Chief Minister Shri Kamal Nath, major players of the textile sector announced investments of Rs. 3250 crores. This will offer jobs to 14 thousand people of the state.
Trident Chairman announces investment of Rs 3000 crore: Announcing an investment of Rs. 3000 crore in Bhopal, Chairman of Trident, Shri Rajendra Gupta said that this will provide employment to 10 thousand people.
Managing Director of Gokaldas Export Company, Shiva Ganapathi said that Rs 50 crore will be invested in Bhopal. This investment will provide employment to three thousand people. Similarly, General Manager of Mayur Uniquoters, Mr. Swapnil Vyas informed about an investment of Rs. 150 crores in Gwalior. One thousand people will get employment.
Managing Director of Syntex Company, Shreyaskar Chaudhary informed that MSME Textile Park will be set up in Indore with an investment of 100 crores with the cooperation from Chairman of Apparel Export Promotion Council A Shaktivel.