Mandla: On February 15, the first day of the two-day tribal festival being held at Ramnagar in Mandla district renowned tribal artists gave dance performances based on tribal culture.
On this occasion, Tribal Welfare Minister Shri Omkar Singh Markam, Union Minister of State for Steel Shri Faggan Singh Kulaste, and a large number of people belonging to the tribal community were present.
On February 16, Deputy Chief Minister of Tripura Vishnudev Verma will be present on the concluding day of the Mahotsav.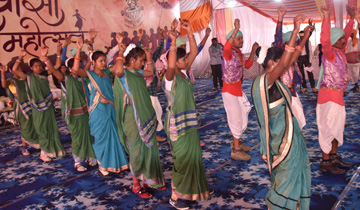 Tribal artists of Rajasthan performed Chakri, Chari and Ghoomar dances on the first day. Artists from Mohgaon performed Shaila, Karma and Gaundi dance while dancers from Bichhiya performed the Baiga dance on the beats of 'Nagada' followed by Reena and Karma dance by artists of Nivas.
Tribal dancers from Balaghat performed the Gaundi traditional dance style and Balaghat folk dancers performed the Gaundi folk dance style in the programme.
Baigani folk dancers of Chadha Dindori performed Baiga folk dance, Medhakhar Dindori artists performed in Gudum style, Dhuliya dance group Dindori performed Gudum Baja dance.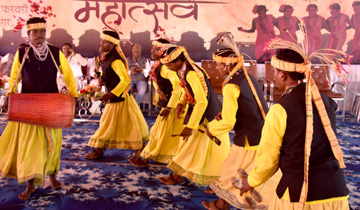 Similarly, Medhakhar Dindori artists performed Karma Shaila folk dance, Adivasi folk team Dindori performed Bona folk dance, Lalpur Dindori artists presented the Shaila dance. These performances had glimpses of folk dance and folk music full of tribal culture.