All 13 gates of Kota barrage were opened, Chambal's water level above danger mark, alert in 60 villages, 10 evacuated
An iron container engaged in the construction of a railway bridge between Dholpur-Morena washed away, 6 villagers atop the container saved 30 km away at Barsela Ghat in Rajasthan
Morena / Panna: In Madhya Pradesh, a video of lightning striking a tree in Pannai's Powai has come to fore. Villagers were making videos of rain in Karhi village there. Then lightning struck the tree. The tree was burnt due to lightning. However, there has been no loss of life in the accident.
At the same time, a container used in the construction of a railway bridge between Morena-Dholpur was washed away. Six people were sitting on the container. Motorboats were running behind to save them. The container-mounted workers had ropes, which were tied to motorboats. The container flowed and reached Usaid Ghat, 15 km from Vilpur Kuthiana. Due to the efforts of some villagers, the laborers on the container were taken off safely at Barsela Ghat in Rajkheda (Rajasthan). But the container washed away.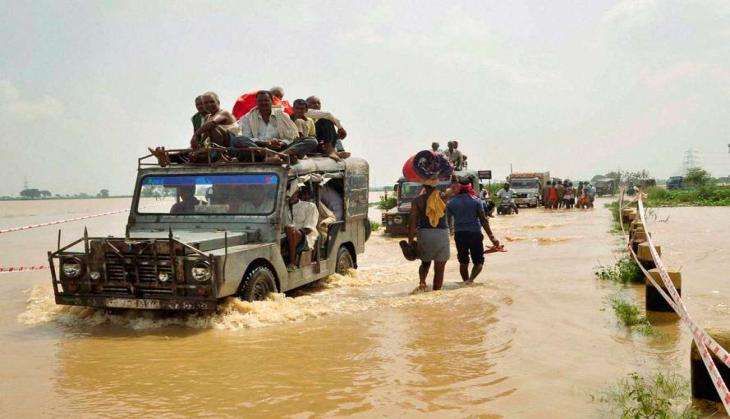 Gates of Kota Barrage opened: Kota barrage dam overflowed due to heavy rains in Malwa. 4 lakh 87 thousand 421 cusecs of water was released in the Chambal river from the barrage. Due to this, the water level of the Chambal river at Rajghat rose above the danger mark of 138 meters. Due to the increase in water level, water started filling up in five villages located in the Sabalgarh region. An alert was issued in 60 villages from Sabalgarh to Ambah-Porsa. The administration shifted more than 50 families from Naduapura village in Saraichhaula village to a safe place.
Crops destroyed: Urad, moong crops have been destroyed in Tehsil Simaria due to excessive rains in Powai assembly constituency. The farmers say that they had borrowed to sow the crop.