Rewa: Rewa's archaeological team has discovered Buddhist remains in the forest of the Singrauli district. These remains are found as dunes in the buffer zone inside the forest. To conserve them, the Archaeological Department, Rewa, has written to the Forest Headquarters, Bhopal, seeking permission.
It has been reported that mounds have been found in the forest near Tendua village, 30 km from Baidhan Tehsil headquarters in the Singrauli district. They are in the buffer zone inside the forest. The number of these Buddhist stupas is between five and six, and they are in a completely damaged condition. In view of their condition, it is believed that they could have been damaged by ignorant villagers or wild animals.

Remains were found earlier in Vindhya: There are third and second century Buddhist stupas at Deur Kothar in Rewa and Bharhut in Satna district respectively. The remains of the Buddhist stupas found in Singrauli district are of the third and fourth centuries. For example, these stupas are 1600 to 1700 years old. The Archaeological Department believes that when Buddhist monks built Buddhist stupas at Deur Kothar in Rewa they also constructed them at Singrauli during the same period.

Sarpanch gave information: It has been told that the local sarpanch had informed the archeology department about finding the ancient monument. After this, a team of archeology department reached the spot from Rewa. The team found that this ancient monument is a Buddhist stupa. The department is now trying to preserve these Buddhist relics.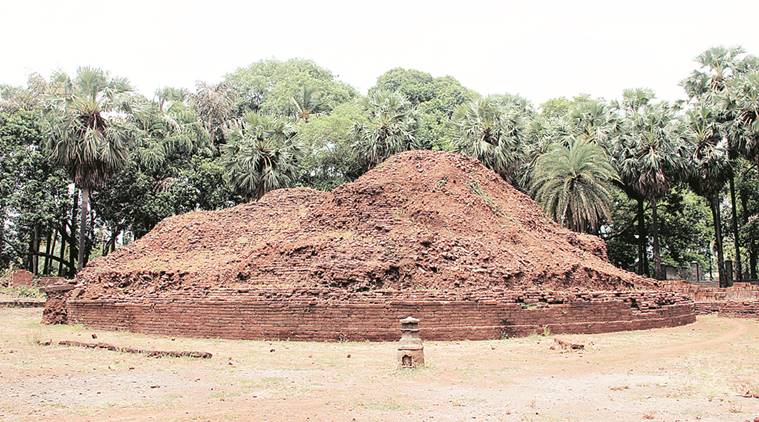 Buddhist monks used this route for travelling: The discovery of Buddhist stupas inside the forest shows the Buddhist monks used this route for travelling. Buddhist monks used this route to travel from Gaya to Sri Lanka or Tibet. It is reported that Emperor Ashoka sent Buddhist monks to every corner of the country to propagate Buddhism. There is a possibility that Buddhist monks came to this place to propagate the religion and they built a Buddhist stupa here. It is also being said that Buddhist monks usually used the same route for the Yatra where Buddhist stupas were built.
Letter to forest headquarters: The area where Buddhist stupas have been found in Singrauli district comes under forest buffer zone. For which the State Archaeological Department has written to the Additional Principal Chief Conservator Forests, Bhopal, seeking permission to preserve the Buddhist relics. Actually, being a buffer zone, permission to work inside the forest is obtained from the forest headquarters itself.
PC Mahobia, in charge of the Archeology Department, Rewa, said that Buddhist remains have been found in the buffer zone of the Singrauli forest, they will be preserved. For this purpose, permission has been sought from the Forest Department for conservation work.