New Delhi: Three persons have been kept under observation at an isolation ward of RML Hospital in New Delhi for a possible exposure to the novel coronavirus, officials said on Tuesday. The three — all men aged between 24 and 48 — were admitted on Monday and their samples have been sent for testing, Dr Minakshi Bhardwaj, Medical Superintendent of RML Hospital, said.
Over 33000 passengers screened: Till Monday, a total of 33,552 passengers arriving in India from China in155 flights have been screened.
24 more deaths in China, toll rises to 106: China has reported 24 more deaths from coronavirus epidemic, taking the number of fatalities to 106 as the confirmed cases of pneumonia caused by the outbreak stand at 4,515, the health authorities announced on Tuesday.
4200 confirmed cases in China: As of now, 4,200 confirmed cases of the virus have been reported from China. China's top cities of Beijing and Shanghai reported their first deaths on late Monday first from the novel coronavirus.
China tightens travel restrictions: Travel restrictions have been tightened and wearing masks in public is now mandatory in some cities.
The city of Wuhan is at the epicentre of the outbreak but it has spread across China and internationally.
Wuhan, and the province it is located in Hubei, are already effectively in lockdown with transport restrictions in and out of the area.
The coronavirus causes severe acute respiratory infection and there is no specific cure or vaccine.
Most of the deaths have been of elderly people or those with pre-existing respiratory problems.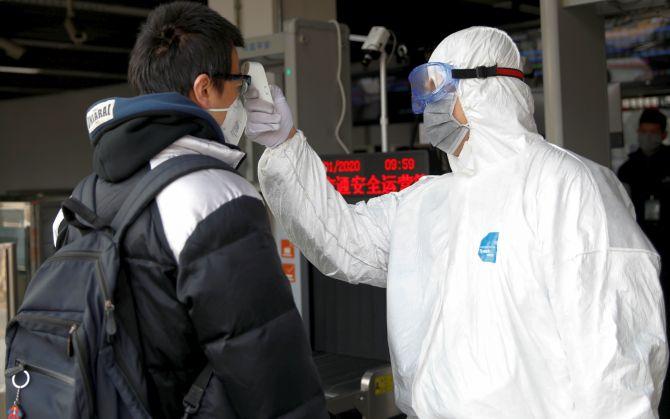 Sri Lanka changes policy: Sri Lanka has suspended its policy of granting visa on arrival for Chinese travellers on Tuesday, a day after the health authorities detected the country's first coronavirus infection. Sudath Suraweera, the chief epidemiologist of the country's health ministry, said on Monday that a 40-year-old Chinese woman was found positive for the virus.
Germany confirms first case: Health authorities in Germany's southern Bavarian region have confirmed the country's first case of the deadly coronavirus spreading in China. France was the first European country to be affected by the outbreak, which has reported three known cases of the virus.
The United States has urged its citizens to reconsider travelling to China amid the coronavirus outbreak.
WHO says risk is high not moderate: The World Health Organisation on Monday admitted an error in its assessment of the global risk of a deadly virus in China, saying it was "high" and not "moderate", reports said. The Geneva-based WHO in its latest situation report said the risk was "very high in China, high at the regional level and high at the global level."