Guwahati: Assam, the hotbed of anti-Citizenship (Amendment) Bill protests, was on edge on Thursday as thousands of angry protesters came out on streets defying curfew, thumbing their nose at Army contingents staging flag marches, and clashing with police across cities.
At least two persons died due to bullet injuries on Thursday after police opened fire on protesters in Assam's Guwahati, officials said.
An official of the Gauhati Medical College and Hospital said that one person was 'brought dead' and another succumbed to injuries while undergoing treatment.
The official, however, could not give their names, saying that 'they were brought unidentified'.
Guwahati resembled a garrison town with Army, paramilitary and state police personnel stationed in every nook and corner, watching helplessly, as frenzied mobs blocked roads with burning discarded tyres and menaced commuters by bludgeoning their vehicles with sticks and stones.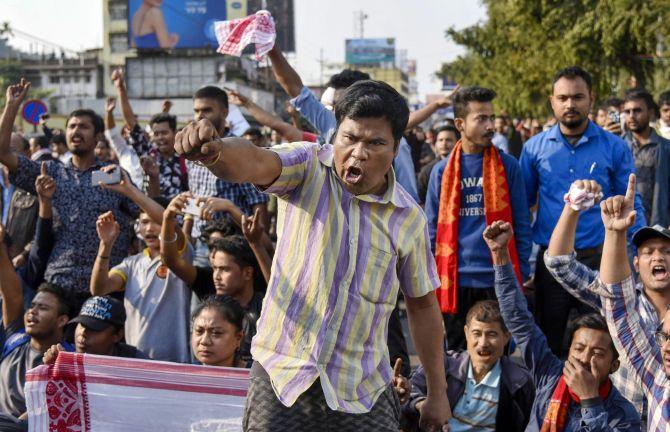 Stones were also thrown at Assam Police chief Bhaskar Jyoti Mahanta's convoy when he was touring Guwahati.
The cavalcade of the director general of police was on the Guwahati-Shillong Road near Christian Basti where it was attacked.
Stones were thrown at several vehicles in the convoy that was on its way from the Secretariat.
The convoy had to stop several times as the entire stretch was blocked by protesters who put up wooden structures and iron barricades.
When the vehicles stopped in the Christian Basti area and security personnels were clearing the road, some protesters threw stones.
No one was hurt and no damage occurred.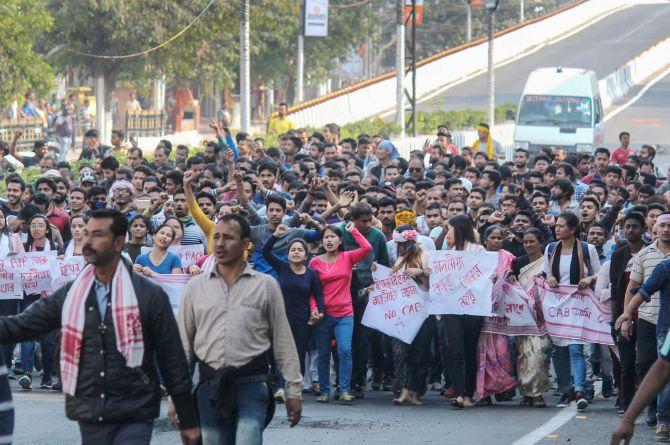 The Director General of Police appealed to people to exercise restraint and not to take the law into their hands.
He also urged to the electronic media not to show provocative visuals or reports.
He said that many 'lumpen elements' and people with political connections are trying to foment disturbances in the state, where the army has been called in three districts besides the state capital.