While Zee TV is all set to introduce its latest offering – a comical Bollywood game show Movie Masti With Maniesh Paul featuring a mad, quirky family, a lot of madness has already begun to erupt as the show hit the floors recently!
For its very first episode, in fact, when the entire Housefull 4 star cast Akshay Kumar, Bobby Deol, Riteish Deshmukh, Kriti Sanon, Pooja Hegde and Kriti Kharbanda were in the house to participate in the games, a freak incident happened with comedian Paritosh, leaving everyone stunned!
For one of the tasks in the course of the episode, actors Ali Asgar and Paritosh were tethered to a harness, hanging mid-air. Unfortunately, Paritosh suffered a bout of low BP and fainted while hooked onto the ropes.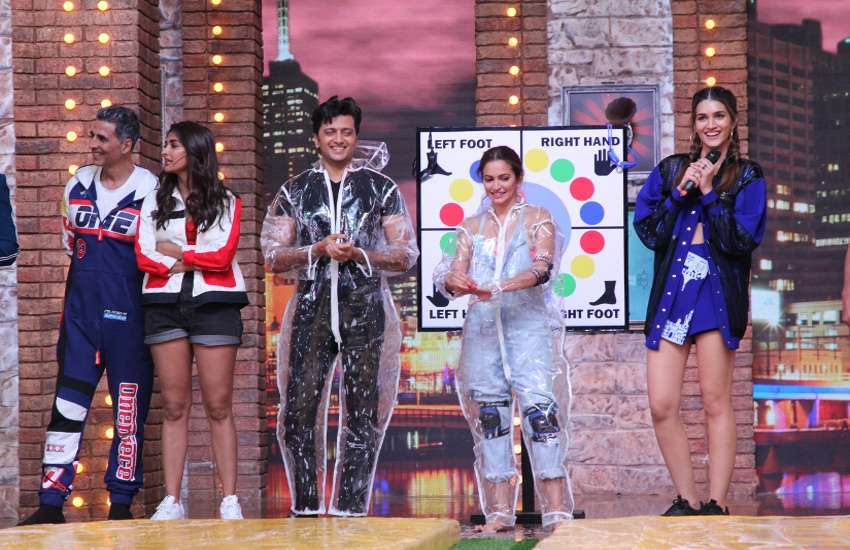 First to notice that something has gone wrong with him, actor Akshay Kumar swung into action and jumped to his rescue. The actor even gave him a sweet to revive him and get his energy levels back.
The crew helped Paritosh with medical aid and got him to rest for a while before the shoot continued. In a matter of few minutes, the actor was absolutely fine and decided to return to shoot.
Ali said, "Akshay was first to notice that Paritosh had begun to lose consciousness and rushed to his aid, jumping over the water tank. I guess that's why we call him the ultimate Khiladi. Anyway, all is well that ends well. Paritosh recovered from his low BP bout in no time and we resumed shoot. Guess these things are a part and parcel of any actor's life."